An excerpt from her lecture at the WSCF Europe "Communicating Gender" conference in Løgumkloster, Denmark, October 2011.
Kathy Galloway
The gendered experience
I don't think that gender per se shapes faith or our experience of God. We are all a complex constellation of voluntary and involuntary identities, and are also strongly shaped by geography, landscape, history, culture, class, ethnicity, education and personal temperament. I don't think my experience of God is the same as all women; I think my faith has more in common with many men in Scotland than with many women in Indonesia or Brazil. I was reflecting on all this once, and I wrote poem – it is about my family – two brothers, two sisters, two parents. It's called Gender:
stubborn
kind
vivid
determined
gentle
passionate
disciplined
analytical
assertive
perceptive
domestic
reflective
astute
muscular
creative
decisive
athletic
conflictual
wise
responsive
encouraging
humorous
enthusiastic
receptive
contained
spontaneous
organised
gregarious
sensitive
serious
miutic
nurturing
co-operative
caring
resourceful
vulgar
attentive
logical
aesthetic
active
intuitive
daring
here are six people
three of them are men
three of them are women
but which are the men
and which are the women?
I'm not even sure how fixed a thing gender is, and how much is culturally conditioned or performative. Here's another little poem:
I have hairs growing on my chin
My shoulders are rather broad
Though I am not thin, I have never been on a diet
I am uninterested in shoes, except to keep my feet dry.
Wounded, I am a Martian
I must be a man!
But I am pretty sure that the experience of patriarchal systems and language shapes our experience of God, of power, of identity, differently by gender, and not in a good way for either women, or ultimately for men.
A member of the Iona Community served as an Ecumenical Accompanier (1) in the West Bank village of Jayyous a couple of years ago. While there, she wrote me an email, describing a visit she had made to a family on the wrong side of the Wall or separation barrier (which there takes the form of a triple fence), which has cut several miles into the West Bank, and separated the townspeople, mostly farmers, from 75% of their land. Some of them can still pass through a check-point to work on the land, as long as they have permits. When the Wall was built, it cut off the farmlands and one home – the smallholding of a Bedouin family who had settled a little way out of town. So now their children have to go through the checkpoint during the brief openings in the morning and at midday, to get to and from school. Visiting the family, Jan was taken to visit two of its members:
He led me along to the kitchen door. I looked into its smoky darkness, and saw two young women. These were his older sisters. In the town we had heard about them – how they had been badly treated by the soldiers, when they had to pass through the checkpoint: made to remove their headscarves, searched. And so their father had withdrawn them from school. They are normal lively teenagers, living in an isolation incredible to us. As I stood in the kitchen doorway, I could turn and see the nearest houses of Jayyous, on the other side of the barrier – a few minutes' walk away. But these girls were not allowed to go there, cut off by politics on one side and culture on the other. They smiled and welcomed me in low voices, and practised a few words of English. Then one asked me in sign-language – Do you have a mobile phone? May we borrow it? Quickly?
So they did, and while their little brother kept watch, and I looked across the wall at the town, the jeeps passing on the intervening road, they rang and spoke (like any teenagers) to the school-friends from who they are now separated, certainly until they reach school-leaving age, probably for longer. Their only chance of escape from this situation, this isolation, the leaky roof, the smoky kitchen, is for their parents to arrange a marriage. But their education has hit the wall.
Jan also sent me an email with a photograph attachment. But when I opened the picture file, I discovered that a Trojan had gained access to it, and the West Bank photos were accompanied by dozens of pornographic images. Though I didn't trawl through the whole file, I saw enough to realise that these could in no way be described as 'glamour' shots. They were of ordinary young women, most of them very young, in what looked like suburban bedrooms, mostly shot in extremely graphic poses. Some of the faces were expressionless, some wary, some looked terrified. This curious juxtaposition of women's stories – the peace activist, the Muslim school girls in a war zone, the sexually commodified teenagers – struck me forcibly as a paradigm of the gendered experience.
They exemplify some stark realities – that women are the primary victims of violence. But there are other forms of violence of which women are disproportionately victims:
• 70% of the world's 1,3 billion poor are women;
• 66% of the world's illiterate people are women;(2)
• 80% of the world's refugees are women and children; (3)
Racism and xenephobia render all of these conditions more acute. And all of this does not include the women who suffer direct violence, injury and death in war. Statistics are dry: two Muslim schoolgirls caught on the wrong side of the line in a military occupation are the human faces of the victims of violence, the sexually commodified teenagers are also the human faces of the victims of violence.
I think it's important to stress what might seem obvious, because a second reality exemplified by my story of women is that what sometimes seem to be strategies in the interest of women turn out to be actually in someone else's interest. One of the broad goals of the 20th century women's movement in the West was that women should enjoy not just the political and civil rights that men had, but that they should also be able to avail themselves of the same freedoms enjoyed by men, such as agency, self-determination, sexual autonomy and bodily integrity-the right to control their own bodies, to be not possessed. And indeed, for many millions, this has been a goal attained, has allowed women to leave abusive relationships, to own and enjoy their sexual desire, to dissent from practices that harmed them, to desist from the relentless child-bearing that killed so many women in the past. But for many, perhaps the majority of women in the world, that freedom has actually been turned against them, because in practice it is only available to women who have economic freedom also. A cultural climate of increased sexual license has hugely increased the extent to which it is acceptable to commodify sexuality – in such a climate, all that is needed to exploit this market is a ready supply of buyers and sellers…
I am often asked why feminist activists, including Christian ones, seem to organise in all-female groupings. Is it because we are anti-men, or because we don't realise that men suffer too?
It's perhaps a necessary protecting of a free space; women are by and large socialised to please, to defer to, and to serve men. Here, I must confess to a degree of ambivalence, not about service itself, but about the church's use of the language of servanthood. In the gospels, servanthood was commended by Jesus to his male followers, and as such was a subversive, even offensive notion. Ever since, servanthood has been commended by men in the church to women, and as such has been a reinforcement of the status quo, and all too often a strategy for keeping women firmly in their place. This has often gone hand in hand with men in positions of great power and influence proclaiming that they are humble servants, while behind the scenes, women have cleaned up, picked up and kept their mouths shut. So you see, as a feminist theologian, I have a strong hermeneutic of suspicion about the term
The truth is women would love for more men to be more involved. But the one thing that would make the most difference-that is, for men to confront and challenge male violence and the structures of masculinities – the majority seem curiously reluctant to do. Women consistently find that their most reliable partners and allies are other women.
It is sometimes suggested that feminist theology is a preoccupation of privileged white western women, and is of no interest or relevance to women in the global South. But there are feminist and women-centred theologies in every part of the globe, engaging with just these issues, and talking to each other; and as the Hispanic mujerista theologian Ada Maria Isasi-Diaz comments ruefully:
If we are women theologians in the 1st World, we are told we are out of touch with the women in the pews. If we are 3rd World theologians, we are told 'these women' from the 1st World are unduly influencing us – as if we were not capable of thinking for ourselves.
By defining women through and for men, secondary, derivative and sometimes completely invisible, hugely important aspects of God, faith and the church also become secondary, derivative and sometimes completely invisible.
We need to find language and images for bearing witness in worship and theology which allow us to relate in a fuller way to God, so that we may name our experience of the immanence of God, God-with-us, God embodied, as well as of the transcendence of God, of the vulnerability and weakness of God as well as the power of God, of the wounded and suffering God as well as of the God of Armies. And of a language of the family that suggests intimacy, mutuality and a wider vision of being family rather than the property, posterity, purity and power model that is the bottom line of patriarchy.
This will require us to be creative, observant, open, and most of all, it will require us to get the censors off our religious imagination. Vulnerability and weakness, intimacy and mutuality, God-with-us, are seen in places and among people who are ignored and overlooked by the church, except as objects of piety and patronage – the very poorest people, children, the frail and old, street-sleepers, beaten and wounded armies, those who are excluded, messy families, and so on. But we don't look among them for our models of God – which is curious, really, because Jesus, almost alone among historical liturgists, did exactly that!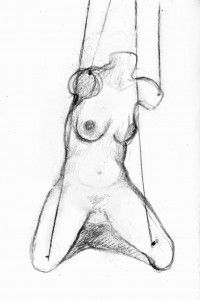 Language reflects the dominant patterns of a culture. But it also reinforces them. That's why totalitarian states silence the artists and poets and journalists first, to avoid the patterns of power being subverted. If we leave the naming of our relationship with God so one-sided, so distorted, then we are complicit with a context in which abuse, concealment and disregard for the vulnerable flourish. The Japanese-American theologian Kosuke Koyama has written:
Grace cannot function in a world of invisibility. Yet in our world, the rulers try to make invisible the alien, the orphan, the hungry and thirsty, the sick and imprisoned. This is violence. Their bodies must remain visible. There is a connection between invisibility and violence. People, because of the image of God they embody, must remain seen. Faith, hope and love are not vital except in what is seen. Religion seems to raise up the invisible and despise what is visible. But it is the 'see, hear, touch' gospel that can nurture the hope which is free from deception.
The one God embraces the one world which speaks more than 7000 dialects and languages. God is open to all cultures and nations. How many languages does God speak? All of them! No people can speak in an isolated language and have an exclusive self-identity. … The church is in the world and the world is in the church. God's word to the church is God's word to the world. There are not two words of God, one for the church and another for the world… (4)
I will probably continue to be a faithful worshipper. I will do this because I love the little struggling local community of faith I belong to and because I have a minister who takes these questions, and others, seriously and respectfully. I will do it because I still find in so much of the Bible, liturgy, hymns, 'the room for hope to enter, the space where we are freed'. I will do it in solidarity with those in churches everywhere who make great sacrifices to remain in community in worship. I will do it because I have a passionate Reformed conviction of the priesthood of all believers, and long for the day when 'all' actually means all. I will do it along with the women who believe, with Musimbi Kanyoro, a Kenyan woman theologian writes,
during his life here on earth, Jesus visited the towns and villages and saw with his own eyes the problems facing the people. He saw poverty, the inequality, the religious and economic oppression, the unemployment, the depression, the physically ill and the socially unclean. His heart was filled with pity. He pronounced what his mission was all about: he came to preach the good news to the poor and to release those who are captives and give health to those who are ill. (5)
I will do it for the moments in worship when I glimpse the life that is held and encompassed in the divine mystery and love from which nothing can separate us. I will do it because ultimately this struggle is who I am and all I have to offer.
But I will do it always with brokenness, because I know that at the deepest level of my being, I do not trust the institutional church to care enough about the wellbeing of women to give up the power of patriarchy, even though Jesus did. I do not believe that God is male, however God is named. This is not a statement inconsistent with orthodox Christian theology. But it is certainly inconsistent with conventional Christian practice.
[1] The Ecumenical Accompaniment Programme in Palestine and Israel of the World Council of Churches . The role of participants in the programme includes: Monitoring and reporting violations of human rights and international humanitarian law; supporting acts of non-violent resistance alongside local Christian and Muslim Palestinians and Israeli peace activists; offering protection through non violent presence; engaging in public advocacy policy; standing in solidarity with the churches and all those struggling against the occupation.
[1] The Ecumenical Accompaniment Programme in Palestine and Israel of the World Council of Churches . The role of participants in the programme includes: Monitoring and reporting violations of human rights and international humanitarian law; supporting acts of non-violent resistance alongside local Christian and Muslim Palestinians and Israeli peace activists; offering protection through non violent presence; engaging in public advocacy policy; standing in solidarity with the churches and all those struggling against the occupation.
[2] United Nations Department of Public Information, Women at a Glance, DPI/1862/Rev.2, (New York: 1997), http://www.un.org/ecosocdev/geninfo/women/women96.htm.
[2] Julie Mertus, Mallika Dutt and Nancy Flowers. "Human Rights of Refugee, Displaced and Migrant Women", Local Action/Global Change: Learning about the Human Rights of Women and Girls, (Centre for Women's Global Leadership and UNIFEM, New York: 1997).
[3] Kosuke Koyama, from an address given at the 8th WCC Assembly, Harare, Zimbabwe, 1998.
[4] Musimbi Kanyoro, from an address given at the closing conference, WCC Decade of Churches in Solidarity with Women, Harare, Zimbabwe, 1998.
– Kathy is an ordained Church of Scotland minister and was, in 2002 the first woman to be elected leader of the Iona Community. Kathy is currently based in Glasgow where she leads the team and represents Christian Aid at a national level.
Printable version available: Galloway
Subscribe to Mozaik for printed copies delivered to your door!