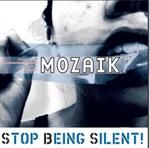 Stop Being Silent!,wraps up our three year programme, Stop Being Silent!: Identifying, Overcoming and Preventing Domestic Violence. The Lingua Franca Programme was initiated in response to the World Council of Churches 'Decade to Overcome Violence'. As explored at the seminars, even the connotations of the words victim, abuser, and observer often affect the way we view those involved in domestic violence. May we look beyond the surface of labels. May we not be silent witnesses. May we be pricked to action only by the sight and story of a gentle needle, by a reminder of the humanity which we share, to call aloud with wisdom in the streets.
Rachael WEBER – Editorial
Overview

Rachael WEBER – Stop Being Silent! Overview 2008 – 2010 
A reflection of the three year campaign to raise awareness about domestic violence.
David Masters – Observing Violence
What does it mean as Christians to observe violence in our communities?
Marta GUSTAVSSON – Globalisation and the Body
A theological approach to globalisation, the body and how the two are related.
Marta GUSTAVSSON – A Prayer Inspired by Stop Being Silent!
A responsive prayer to use in your SCM when reflecting on issues of gender and violence.
Present Realities

Bernardína Bodnárová – Domestic Violence in the Slovak Republic
A case-study investigating rates of prevalence, triggers and public perception of  domestic violence.
Hanna KUISMA and Tanja ROIHA – Womb, Stone, Human Being
An explanation of the art exhibit where much of this issue's artwork came from.
Magda Lekiashvili and Nino Kikvadze – Gender Violence in Georgia
An interview with the  International Centre on Conflicts and Negotiations in Georgia.
Matlab ASGAR – Domestic Violence in Azerbaijan
A reflection on violence in Azerbaijan focusing on bringing domestic violence into the public eye.
John DELAP – Gender Roles and Domestic Violence in Ireland
A look at Ireland, the Catholic Church and how domestic violence is seen in those communities.
Anastasia GKITSI – Denial Tree (Or Historical Inaccuracies)
A poem inspired by the theme.
Dr. Agnes Galajda – The Hungarian Association of Women Judges
Sharing the experience of being a female judge in Central Europe and the role they play in cases of domestic violence.
Elizabeth BOWMAN – Domestic Violence and Brain Injury
Why physicians, friends, and social workers all need to work together wtih survivors of domestic violence.
Violence and the Church
Svitlana MAKAREVYCH – The Ukrainian Orthodox Church and the Problem of Domestic Violence
What is the role of churches in the lives of their parishioners?
Hendew LUSEY – Towards a Theology of Masculinity in the Context of HIV in Africa
A reflection on how the church can play a role in reshaping the understandings of masculinity to reduce of Aids.
Amanda GEARING – Survivor of Clergy Abuse Speaks for Voiceless Victims
A reporter's account of the role media played in ignoring the victims story in favour of the perpetrator.
Dr. Martin WEBER – Understanding the Mystery of Clergy Sexual Abuse
Breaking the stigma of speaking openly about abuse by church leadership.
Maryann PHILBROOK – Reflections on the Lenten Study, 'Cries of Anguish, Stories of Hope'
One person's experience participating in the World Council of Churches' Lenten Study.
Lucy D'AETH – Creating Space to Think: A Bible study
This bible study can be used in your context to reflect on  John 7:53 – 8:11.
Responses
From the Archives: Mary E. HUNT – Mothers Lead the Way
Feminism has a role to play in liberation – WSCF can learn from the Mothers of Plaza de Mayo in Buenos Aires.
Zana Hoxha KRASNIQI – Kitchen of Victims: A theatre campaign in Kosovo
This dynamic play successfully brought domestic violence into the public eye.
Ilir GJOCAJ – Kitchen of Victims: Scene One, Zoja's Story
An excerpt from the play that was showcased in Kosovo.
Nataliya PYLYPIV – Overcoming Violence in Society: How the restorative approach might help
A shift to think about crime not as breaking the law but as causing harm to a person and social relationships.
Tuval DINNER – The White Ribbon Campaign 
An international men's movement to speak out about violence against women.
Final things
Ecumenical Liturgy: Laying Down Our Stones
Adapted from the World Council of Churches Lenten Study used at the Stop Being Silent! seminar in Minsk.