Mozaik 30 Guilty or Not Guilty?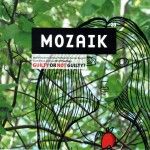 Do we still have time in our hectic lives to take a moment and think about guilt or are we just limited to the guilty feelings after having eaten too much chocolate? Are religion and ethics separable? How should I live if crimes were committed in the name of my nation?
Pawel PUSTELNIK – Editorial 
Act
Ragnhild Bjørvik OPSAHL – My Lent-ish Project
Paul CROME – Living Below the Line
Eva UNGVARI – Thoughts about Sin and Guilt
Janko STEFANOV – Secular Society, Conscience and Guilt: A Brief Reflection
JoAnne CHUNG YAN LAM – What has Guilt Done for Us Lately
Know
Marta GUSTAVSSON – Simul Iustus et Peccator, or On the Problem with Grace
Nenad DMITRIJEVIC – Moral Responsibility for Collective Crime
Alexander (Areshian-Hakopyan) ARKTOS – Dominion over Natural Resources as Curatorship, Custodianship or Stewardship
David WEBERMAN – Are Ethics and Religion Separable?
Marta GUSTAVSSON – A Poem
Anna ABRAM – What Kind of Ethics Do We Need Today?
Vivian BOLAND – Psychology and Moral Theology: Collaboration and Challenges
James JACKSON – Are Drug Users Guilty or Not Guilty?
Resources
Magdalena SLAWIŃSKA – Abortion: Law and Morality
Pavlo SMYTSNYUK – Shame and Guilt
Gabriela BRADOVKOVÁ – Twice About One Guilt: A Bible Study
Katka BABICOVÁ, Shannon PHILLIP, Pawel PUSTELNIK – The Financial Crisis: A Role Play
Federation
Katka BABICOVÁ – A Short Future Memory of One
Hans HOMMENS – A Letter from the WSCF Europe Regional Secretary
Yulia BAJELIDZE – Georgia Joins WSCF
Márta VÁRNAGYI – What Does it Mean to Follow Christ Today?
Vera PAPP – WSCF Executive Committee Meeting in Berlin
 Subscribe to Mozaik to get hard copies of all your favourite issues.