Mozaik 28 Living in a World of Technology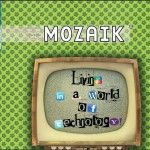 Communication between people, cultures and societies has been dramatically transformed by technology. Cultural exchange is literally at our fingertips. The shift to the online world has reshaped interpersonal communication, changed our virtual and real communities, transformed the collection and storage of information and reconstructed education methodologies.
The faceless aspect of the online world defines people by their interests rather than by their nationalities, race, gender, social or religious backgrounds. The Internet has become a substitute for direct contract and little information is available about the negative physical and mental health costs of online life. Off-line information is decreasing, creating an information gap between countries and people with online access and those without. How can we ensure that this phenomenon does not become a new division in the global community?"
Pawel PUSTELNIK – Editorial
Think
Marta GUSTAVSSON – Body, God and the Internet Other
Does violence travel through screens via the Internet? This article explores gendered violence Online.
David MASTERS – Life Unplugged: Reconnecting with Your Deeper Self
Taking a break from the connected world might make some people apprehensive but we are all capable of disconnecting and finding peace.
Simon STEVENS – Who is My Virtual Neighbour?
An exploration of the Internet and the virtual reaction to societies that are becoming more and more secular.
From the Archives: Christine LEDGER – The Ideology of Science
With technological change, our skills, our competence, our control over our lives and over nature have all increased enormously. Who are we to worry about technology?
Reflections
Piotr SZELĄG – Uncovering Realities
A current outlook on the development of technology from a Catholic perspective responding to the question if technology brings us closer to God.

Marek IGNACIUK – Does the Development of Technology Bring Us Closer to God?
Technology can bring us closer to God, but it depends only on how we are going to make use of the blessings and achievements of civilization.
Annelies VAN DE STEEG – The Face of God on Facebook?
Provided that we use technology wisely and faithfully and never forget spending time 'face to face' with God and others  maybe we can get closer to God Online.
Resources
David MASTERS – Bible Study
How do we find technology and reactions to technology in the Bible?
Natalia MYKYTEI and Vladyslav VLASOV – Workshop: Media: An Alternative Truth
A workshop warning readers about believing everything the media writes.
Maximilian KARRASCH and Gabor NEMET – Workshop: When I was Young a Blackberry was 'Just' a Fruit
Video making for large groups debating whether or not technology should play a major role in our lives.  
Worship from "Living in a World of Technology" Conference
Federation
Katka BABICOVÁ – WSCF at Kirchentag-Heartbeat Youth Congress
A participant at the Kirchentage pre-youth congress explains her experience.
Paweł PUSTELNIK – Global Education? Sure!
Upon returning from Cape-Verde, Pawel explains his role at the Education event.
Pavlina MANAVSKA – A Few Thoughts about Technology
A reflection following the WSCF Culture and Higher Education Conference in Finland.
IEPC Report – Young Christians Share Church's Witness of Peace
A team of young Christians from the across WSCF were appointed to make a series of videos sharing the global churches' message of peace at the International Ecumenical Peace Convocation.
 Subscribe to Mozaik to get hard copies of all your favourite issues.