Marta Gustavsson
Technology, is it for better or for worse? The question, of course, is a standard question posing the "good old days" perspective towards the perspective of progress and development. But when we start asking the questions of the "In Real Life" (IRL) life we used to know (as it is now, for many of us, too intertwined with the virtual one) to the sphere of the screens, we can learn new things about our lived realities' biggest questions.
I have, myself, during the latest year been occupied very much with thoughts of relational and sexual misbehaviour, violations and violence. Questions of dominance, rapes and violence against partners were often perceived to occur preferably outdoors, by drunkards, by psychos, or for that matter in any way where the perpetrator was disconnected from the nice people you hang around with yourself. It is a struggle, for those working with domestic violence, to make people understand that the rapist can be a popular, nice guy. That maltreatment can occur between pink sheets, in a perfectly settled environment and that a couple even can fall asleep lovingly after. That an emotional wound can go "somewhere else" and stay there for a long time.
In a way, the Internet has similarities with the Outdoors. "There are a lot of psychos out there", as we all know, plus violations made online are a bit like a rape in a distant park; the victim should not have been there anyway and should certainly not make such a willing impression. On the other hand, there are similarities to the bedroom setting. Often, in the landscape of Internet contacts, one can find as much trust and affection as in IRL encounters. And when trust is there, vulnerability will come as well.And what happens, when even a new setting is brought to the picture? Can we bear talking about violations in yet another sphere? Can we understand what media reports about perverts streaming photos of young girls, or the bad experiences of our own generation with Internet flirting, as a continuance of what could go wrong in physical and face to face contact?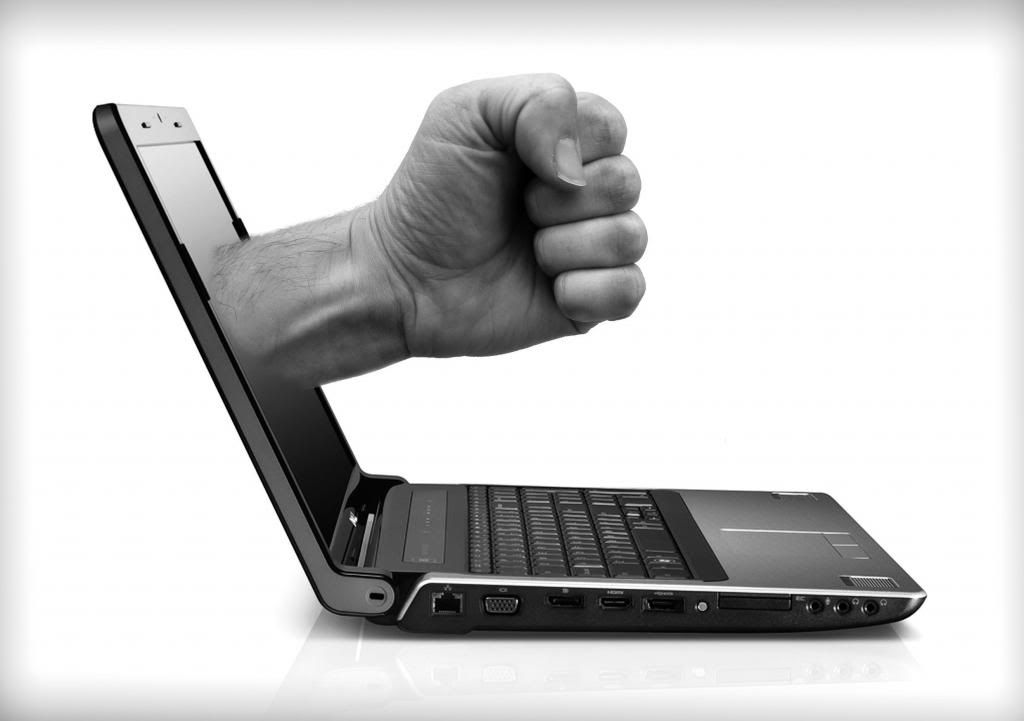 Let me say something about screens. Normally when we talk about sexual or relational violations, we also encounter the issue of bodily violations. We refer to the pains that a body can carry, even though mind and language are incapable of recognizing them. But in our virtual life, when our bodily representation is a 100×140 pixel photo retouched in Photoshop, do our bodies not stay out of the picture? Have we not, so to say, found a way of transcending our bodily limitations to create the image of ourselves seemingly worthy of unbroken adoration? How can this super presentation ever turn into the failure it would be to become hurt?
Maybe, that is exactly why, you can form the picture of yourself as unquestionably desirable and people might believe it. Behind the screens, imaging the ideal partner, loving the surface given, is even easier than in real life. You do not see what's behind. And to the person-image formed with language, one might give away bigger parts of one's inner life than what was really meant. Online trust can actually be even more one-sided than IRL trust.
Screens are means of protection. What is interesting with them, in my view, is that they are in no way a new phenomenon. On the contrary, I believe, a concrete computer screen very well shows something terrifyingly real about all of our lived reality. A screen, in some aspect, is always there. All of our encounters are in some way carrying the self-transcendence of the self-created image. Even our flesh and blood bodies can be presented for certain interpretations.
The body can in some aspects give way to the immanency of the self, posing a limit for the lie of our relationships and perhaps thus give way to a lesser idolatry; a body is the sign of truth making human being forever aware that human being is not God, not totally self-created, without the capacity to communicate its mysteries on its own premises. On the other hand, in many cases, the body has been exactly a support of these lies, which is why virtual life for many people has a potential for being 'truer' – what is given away there can be the 'inner truths' of our thoughts, as we are not judged for our embodiments in the same way.
Our protecting screens are never protecting enough. Just as love, trust, curiosity and enthusiasm can go through plenty of borders; bad behaviour can also slip through the many barriers we use for protecting ourselves. I believe, in the case of Internet interaction, that there is a gap between the amount of trust we ourselves have in these interactions (which is often very high and often grows very quickly) and the ease with which we can misbehave, the fact that the face of the Other is not really there. The way out from one's responsibilities can be taken with one click. What we leave behind, we will never see. In the discord between what we expect from the Internet Other and what we expect from ourselves towards the Internet Other, a moral hazard occurs. A lot is at play and no one is accountable for it.
If someone is maltreated bodily in our 'real' world, it will show in the body, stick there, become a part of its self-perceived space and limitations. But if someone is hurt virtually, I do not believe the pain stays in the virtual. The maltreated mind will react, I believe, as if the body was involved. In many cases, the body has been involved, in the phantasms and promises of the conversation. Trusting these things to an online Other can be comparable to trusting your very limbs in the hands of others.
What concerns me is not a supposed exaggeration of the violations in the sphere of Internet – I can't compare pains in a way that would make this meaningful. What is worrying me is that although we move out in a sphere where new rules for human interaction could be set, what instead has happened is a "no rules" paradigm where sexist patterns and patterns of dominance and violence are yet confirmed and further implemented.
There are few answers of how to systematically change the Internet social codes for the better, but I certainly believe our efforts are too few; as persons, as societies and as Christians. How would it be if Church chaplaincy would make a serious effort to preach the limits of online self-transcendence? If our churches could form teachings on how the immanent reality of hopes and longings, sufferings and pain, should be recognized also when we leave the IRL sphere for its virtual extension?
This could be an excellent question to engage in publicly; to both talk about ethics in the new times in a way that currently is quite absent and as a surplus effect also get a chance to refer to the depth of theology; letting God be God and through the lens of a God incarnate, understand that what is required of us is neither to ourselves turn God-like or to recognize the God-likeness in the Other, but on the contrary to ourselves turn human and to recognize the humanity in the other, even when hidden by a screen.
–Marta Gustavsson is a Swedish master student in theology and perhaps soon to become a pastor in Church of Sweden. In her thoughts as well as in her studies, political, feminist and body theologies are often contrasted by a strong emphasis on God's transcendence. Apart from this she likes her bicycle, cooking and listening to electronica.
Printable version available: Gustavsson